Danish Health Blogs
Highlighted Blogs
BreakOutTheSkinnyGirl
This is a blog about dieting. Well, I say that…it's not a blog about a diet as such, it's more about what goes on in my head because I'm ON a diet. Basically I'm a fat lady...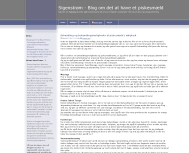 If you come this far it's probably because you might want to know about who I am.! In 07 I was.. hit by a car, so you could call me for road kill because it did not go very well. So I have among.. other things a whiplash, which is what I write about
En om alle de emner jeg støder på som psykoteterapaut, parterapeut og coach. Jeg skriver om.. depression, parterapi, afhængighed, anoreksi, m.m. Det er både de store og de små ting je.. skriver med fokus på at formidle viden og inspiration.
Tags: Parterapi, Psykoterapi, Parterapeut, Psykoterapi, terapi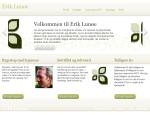 Danish blog about hypnosis and hypnotherapy
Tags: hypnose, hypnoterapi, rygestop, hypnose mp3, nlp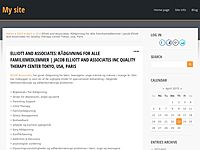 Elliott Associates har givet rådgivning for børn, teenagere, unge voksne og voksne i mange år... Den har indbygget ry som en af de vigtigste kilder til specialiseret behandling i følgende.. følelsesmæssige og adfærdsmæssige problemer
Tags: Elliott And Associates