Blog Posts - żółty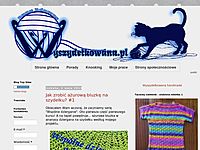 Witajcie, kochani! Jak tam przygotowania do świąt? Ja dziś mam do pokazania dwie robótki - serwetkę do święconki i koszyczek na drobiazgi.Zacznę może od serwetki. Żółty kordonek to Maxi, kremowy - Cotton Filet. Stwierdziłam, że w tym ro...
Złote podkładki na szydełku.Zapraszam do lajkowania RękodziełoAR na Facebooku. Jak stuknie 100 lajków to będzie konkursik :) ...
Pizza ma mnóstwo swoich zwolenników, a kto jej nie lubi ? Nie znamy nawet takich osób, oczywiście każdy ma swoje gusta co do dodatków, ale te pyszne, chrupiące, drożdżowe ciasto pełne aromatu zawładnie podniebieniem każdego smakosza! Pizz...
Często zdarza się tak, że brakuje nam czasu na przygotowanie potrawy, lub niespodziewane goście wpadną z wizytą, pomysłów jednak nie brakuje, aby przyrządzić szybkie danie w kilka minut. Jedną z takich opcji jest szybka pizza z ciasta fran...
Muszę Wam się do czegoś przyznać... nie mogłam dzisiaj myśleć o niczym innym, jak tylko o ciastach! Uwielbiam jesień - lubię chodzić szurając nogami po szeleszczących liściach, wygrzewać się wieczorami przed kominkiem, otulać się cie...