Blog Posts - Andoni Aduriz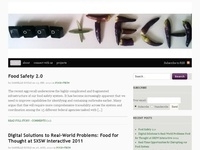 The 1st food tech startup accelerator is looking for its 2nd class. Apply by 5.15 to receive mentorship from top chefs, corporate executives, investors and more. The post Updated: Apply for DIG EAT ALL's 2nd Food Tech Startup Accelerator Class...
El chef vasco Andoni Aduriz ha participado en el proyecto Tavole Accademiche de la Università di Scienze Gastronomiche di Pollenzo. Esta universidad italiana, dedicada, como su nombre indica,  a la gastronomía. Este interesante proyecto de formaci...
Andoni Luis Aduriz, es un habitual en nuestra web, y por varios asuntos diferentes, todos ellos, claro está, relacionados con la gastronomía. En los últimos tiempos por las entrevistas que van apareciendo a lo largo de todo el mundo hablando de su...
Claire Sibonney ha realizado, para Reuters, una amplia entrevista al chef vasco, en el que se habla de su nuevo libro, de su valoración como uno de los mejores ches del mundo, del porque de su profesión, del incendio de su cocina y del renacer del...
Chloe Scott  ha publicado en el diario londinese Metro un amplio reportaje sobre Andoni Luis Aduriz. No sabemos si han aprovechado su confirmación como el tercer mejor restaurante del mundo segun la lista que realiza la revista británica Restauran...
Acaba de desvelarse la lista de los 50 mejores restaurantes del mundo, que cada año realiza la Revista Restaurant. Un año más los chefs vascos, y la gastronomía vasca, se encuentran extraordinariamente bien representadas en esta lista. Es verdad...
En su quinta edición, el evento gastronómico Peixe en Lisboa va a ofrecer la posibilidad de asistir a una presentación de unos de los chefs vascos más en boga: Andoni Luis Aduriz. Este evento gastronómico que esta edición se celebra entre los d...