Blog Posts - Att Wireless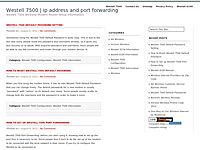 Here is a list of the att wireless customer service number phones I found while surfing the internet may be useful. Att Wireless Customer Service Number AT&T (Cingular) Business End User Care 1-800-331-0500 Customer Care 1-800-331-0500 1-866-246-...

T-Mobile Ads, Now We Are Crappy Too, Just Like AT&T!Remember those T-Mobile Ads, depicting AT&T and Other networks are being crappy? Well I guess now they will have to say, following the trend we have decided to become crappy too! Too bad...
This one goes back a little ways, but a U.S. District Court in Seattle has now given the go ahead to a class action lawsuit brought by former AT&T Wireless subscribers, who have complained that their service went downhill after the company was b...