Blog Posts - Avotube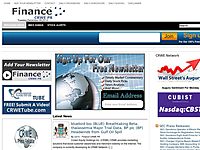 Crown Equity Holdings Inc. (CRWE) The company is currently developing its CRWE Network ( www.CRWE-PR.com ), a growing network of community targeted sites. CRWE Network's business model is based on selling advertising to businesses targeting bot...
Las Vegas, NV, September 22, 2014 – (CRWE Press Release) – American Video Teleconferencing Corp. (PINKSHEET: AVOT), (www.avotconf.com) today announced that it has engage MaloneBailey, LLP for its audit. "American Video Teleconferenc...