Blog Posts - Bible Wisdom
On Love: Love is patient, love is kind. It does not envy, it does not boast, it is not proud. It is not rude, it is not self-seeking, it is not easily angered, it keeps no record of wrongs. Love does... [[ This is a content summary only. Visit my we...

God instructed Noah to bring into the ark two of every creature that had the "breath of life" (Gen 7:15), along with his family. In this way, God preserved His creatures from total destruction. This shows that God places a … Continue readin...

People frequently use the term "Mother Nature" to describe the natural laws that bring order and predictability to the world. But Paul reminds us that Christ is ultimately the One who holds things together ( Col 1:17), not some impersonal …...

Jack Nicholson has been in some of Hollywood's major blockbuster films. When asked how he keeps it all together, he offered us these words of wisdom: "You know pride goes before a fall, so I never ever tell myself I … Continue reading ͛...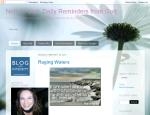 NOTE TO SELF: Are we making God a happy parent? Is His heart singing and dancing to the tune of the truth we speak? Are we speaking truth? Are we being wise, or even becoming wise? In order to be wise we need to be immersed in God's presence, Word,...