Blog Posts - Isla Ometepe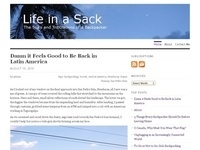 I watched as the perfectly symmetrical cone shaped volcano appeared in the distance. Isla Ometepe lay ahead as we rocked back and forth on the gentle waves of Lago Nicaragua. After I had hurriedly passed through Leon and Grenada, I was looking for...
Read The Travel Tester's handpicked best travel blogs in this month's overview of articles written by our favourite travel bloggers from all around the world. Tune... You just finished reading Best Travel Blogs: The Travel...
Universal Traveller – Travelling Around the World Isla Ometepe is an island in the Lake Nicaragua. During an island tour you may visit Punta Jesus, a narrow strip of sand where you can see beautiful sunsets, the national reserve Charco Verde, the n...