Blog Posts - Israel National Trail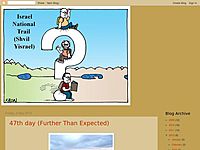 On 14 February 2009 we set out from kibbutz Dan on Israel's Northern border, unsure of what lay ahead, thinking that we would be finished in 4 years. And here we were, 22 March 2016, on our way to the last leg of our journey. This gives the term "fas...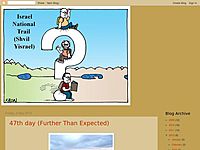 Yoni Garry and I have a Whattsapp group that is named "the shvil pensioners". Besides the self-deprecating name and insight into the centrality the shvil has\had to our friendship, we now indeed are shvil pensioners. But as we all know, life doesn't...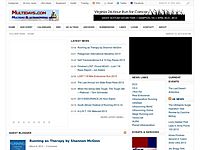 Starting on Monday 15 April 2013 , Richard Bowles will run 80km each day along the 1009km Israel National Trail (INT), described by National Geographic as one of the worlds... Read more »Richard Bowles – Running The Israel National Trail (...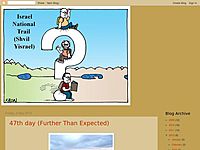 that white dot is the blimpIt's the first week of January. Wecompleted 2 shvil days in December. This is the season that through shvillers supposedlystart in Eilat, walking the desert in winter so as to arrive up north in earlyspring. In contrary to...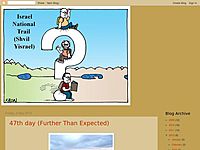 Walking the shvil, the usual aim for the day is to start at point A, arrive at the end at point B and thus get a bit closer to the final goal, Eilat. Occasionally, the aim of the day's walk is merely to tidy up some loose unfinished portions or to co...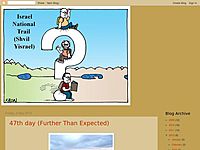 Sometimes things just don't go to plan. We met up late, there were traffic jams along the way and the morning just didn't flow. If I believed in omens, then the morning's tardiness certainly would have been one. It was close to eleven by the time we...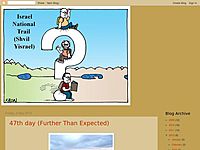 4.45 muster. 5.30 Eli's taxi. 6.00 Arad airstrip. Today's walk started with clockwork efficiency. Just as well, since the shvil painter's inefficiency caused us to waste any time that we may have gained by getting out of bed at such an ungodly hour.