Blog Posts - Jogurtowe
Wybaczcie kompletnie zapomniałam o walentynkach! Obiecuję specjalny produkt ok. wtorku, ale nie miałam głowy do należytego uhonorowania tego komunistycznego święta :D Nie zapomnę jak co roku w gimnazjum z psiapsiółkami robiłyśmy dor...
Dr Gerard?... Oszaleję... naprawdę... Co zajrzę do półki- to mam kilogram produktów od tej firmy. A dostałam je: od mojego taty ( tak były w Eurocashu w promocji), potem siostra mi dokupiła, a brat dopchał słonymi przekąskami na urodziny.
BIG Milki to klasyki :) Niby takie nic, a zawsze jakoś sporo się ich zjadało :D Pamiętam jak z paczką moich blokersów w naszym osiedlowym sklepie, wkręciliśmy sprzedawczynię, że wygraliśmy loda... i kolejnego... i następnego... i tak z 16...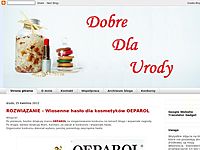 Witajcie,O tym, że ryba jest bardzo zdrowa, wiedzą wszyscy, nie tylko mamusie, spożywanie jej zapewnia organizmowi niezbędne kwasy Omega - 3, które są odpowiedzialne za sprawne funkcjonowanie całego ciała, a także układu nerwowego, wpływa...