Blog Posts - Letters To Evelyn

Dear Evelyn, April 2015 – So  April gave us Easter. Filled with family and friends and fun and frolics! We were able to go up to Nottingham to see family and come back down to London to see more family! Perfect way to spend Easter. You were bo...

Dear Evelyn, May 2015 – Spring has sprung! I cannot believe it has been half a year since you were born.It seems like a lifetime ago but it also feels like you have grown so quickly. This month you have made me smile and laugh loads! Your perso...

Dear Evelyn, December 2014 – You are just over 1 month old.   What a crazy, whirlwind of a month this has been! You have grown and changed so much in such a short space of time. You are so strong and aware of everything around you. You are so...

Dear Evelyn, January 2015 – New Year with friends and family. You are growing so fast. You are not a newborn anymore. You are showing your personality and the things you like and dislike are very clear. You like music, singing and being rocked...

Dear Evelyn, February 2015 – Lots of love for the Valentine month. We finally got a giggle out of you and it was the best sound in the world. You are getting used to Mummy constantly having her camera in your face and are learning that if you s...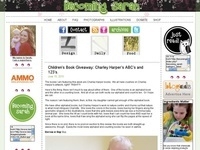 Dear Evie, Three weeks ago, you joined our family in a whirlwind. One minute your sister and I were napping together on the couch and the next minute (or four hours later, whatever) I was squeezing Grandma's hand pushing you into the world.&...