Blog Posts - Ligatures
Kimmy Design's Baker Street fonts, a type collection of 4 styles plus flourishes and swashes inspired by old English signage lettering. The Baker Street fonts have been designed after Kimmy Kirkwood's recent trip to London. Some old Engli...
I started this journey in pink and purple ligatures and I'm ending it with them too. (remember, all pictures can be enlarged by clicking on them)It has been a l.o.n.g 2 years and 4 months but also, in a way, when I think back, it's also gone fast. &n...
Yesterday I went to my 3rd adjustment not knowing what to expect. I thought that only the o-rings were going to be replaced. To my unprepared horror, they were changing the archwire as well...I hadn't taken any pain meds so I instantly br...
Too many! It's one of those days for me, I'm sick, sick, sick of wearing braces! Today they're kinda tender and itchy and annoying and I long for the time when I wasn't so 'aware' of my teeth.My lowers are still lagging behind t...
Well, I'm 14 weeks in now and at this very moment I'm hating how these metal demons are impacting my life. Don't get me wrong, I'm totally digging the progress, everyday I see movement that wasn't there the day before and my teeth are getting s...
So here I am at the 12 week mark, actually approaching 3 months! Doesn't sound so bad, does it? Well, I'm thoroughly sick of them today. I'm craving foods I cannot eat. I actually miss eating normal food like a normal person.&...
I'm slowly recovering from my first adjustment, although it was pretty painful, it pales in comparison to what I felt when I first got these metal demons placed on my teeth. And now, a little over 7 weeks in, I'm thrilled with the progress that...
Today I went in for my first adjustment. I really didn't know what to expect at all, I knew they would change the ligatures (the little rubber o-rings that hold the archwire to the brackets) but I wasn't sure if they would change the archwire.&...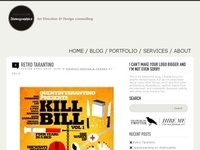 Wonderful work by David Schwen (who's quite THE graphic designer anyway. Sheesh.)...