Blog Posts - Malaysia Today
Here is an image of Malaysian Chinese New Year Yee Sang salad! HAPPY CHINESE NEW YEAR 2016 to all Chinese from all over the world. The post Celebrating Chinese New Year 2016 with Yee Sang salad appeared first on Travel Feeder.
Happy 57th Malaysia Independence Day! 31st of August is the day when Malaysian proclaimed independence from the British colony in 1957. Better known as the Merdeka Day, all Malaysian used to be out on today each year to celebrate their independence.
Let's come to Penang and join the Penang Second Bridge opening ceremony tonight. The new landmark of Malaysia, Penang Second Bridge, is set to be officially opened by Malaysian Prime Minister Datuk Seri Najib Razak on tonight, 1st of March 20...
Today is the 4th day of Chinese New year of Horse 2014. I would like to wish all travelers Gong Xi Fa Cai ! 恭喜发财! This is the most popular phrase to greet people during the first 15 days of lunar new year. It means Happy Prospering, or liter...
Chinese New Year 2014 is around the corner! Counting down the days before the holidays, we can now spot colourful CNY decorations in all shopping malls in Kuala Lumpur. Same as previous years, I will share some of the exhilarating Chinese New Year 20...
Our parents shouted "MERDEKA! MERDEKA!" loud and clear on this date to celebrate Malaysia Independence from British colonial rule 56 years ago. Today, 31st August 2013, all Malaysian are coming out to commemorate this Merdeka or Independe...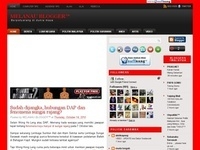 Portal berita pro pembangkang Free Malaysia Today (FMT) hari ini memohon maaf kepada Lynas Corporation Limited kerana sebelum ini menerbitkan artikel-artikel yang mendakwa bahawa kilang memproses nadir bumi milik syarikat itu tidak selamat. Mtoday Ne...