Blog Posts - Michigan St. Spartans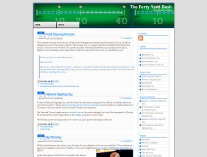 The Texas Longhorns, fresh off a road victory over the North Carolina Tar Heels, face another heavyweight on the road tonight when they take on the Michigan St. Spartans.  Michigan St. came into the season ranked number two in the polls, but has und...
Final Four Predictions:Stefan Ming's Picks:Michigan StateDukeOhio StateFlorida2011 National Champion:Michigan State SpartansGrittysquirrels Picks:DukeKansasOhio StateMichigan State2011 National Champion: Duke Blue DevilsAll-American Team:Stefan...
Here's our latest and up to date rankings.1. Michigan St.Key returnees: Kalin Lucas, Korie Lucious, Draymond Green, and Delvon RoeThe Spartans are loaded and experienced. They're also coming off of back-to-back Final Fours.2. DukeKey retu...
Never too early to talk about next season.1. Michigan St.- Kalin Lucas, Korie Lucious, Chris Allen, and Delvon Roe are primed to finally win that title.2. Duke- Duke should have one of the best backcourts in the nation with Nolan Smith, Andre Dawkin...
Okay here's my updated version of my preseason top 25.1. Michigan St.- Sure they lose Suton and Walton, but Kalin Lucas, Chris Allen, and Raymar Morgan are back. Look for the in-coming 6-10 recruits to make an impact.2. Kansas- All five starters will...
To me it's never too early to speculate about next season. Sure, we don't know who is officially in and out of the draft yet, but that's what revisions are for... I'll try my best.Preseason Top 25:1. Michigan St.- Sure they lose Suton and Walton, bu...
North Carolina vs Michigan St.The Spartans have done the unthinkable. They were a pretty inconsistent team at times this season but turned on their game in March. Give credit to MSU coach Tom Izzo, he always has his team ready to play in the Big Da...
Predicted Order of Finish1. Michigan St.Michigan St. loses it's top player in Drew Neitzel, but it returns 6 of its top 7 scorers. Raymar Morgan, Chris Allen, Durrell Summers, Kalin Lucas, Travis Walton, Goran Suton, and Marquise Gray are all back. T