Blog Posts - Musician Portraits
New draw. Its Trevor Kelly, he`s a guitarist of He Is We. They`re probably one of the best music that i found online. You can find their music here: http://www.purevolume.com/heiswe http://www.heiswemusic.com Drew on Sketch Book A3, watercolour...
New draw. Its Rachel Taylor, she`s a vocalist of duo called He Is We. Drew it on sketch book A3 with watercolour pencils. Cheers, Jaenne...
Old drawing. Its Adam Levine. well since Move like Jagger is launched this week. Its motivated me to finish this draw. I did my best doing his facial, i hope i captured his smirk. i dunno. Nothing fancy about this draw only using mech pencil 0...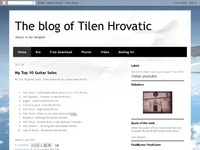 Very cool. Artist iRI5 has constructed portraits of musicians out of recycled cassette tape: Ghost in the Machine.source...