Blog Posts - Nail Extensions
Thats what you were waiting for !!! Pretty colours just arrived :) let me show you Im brighter than youJust peachySeafoamHigh voltageSunrise and the cityGood gossipBook an appointment now :) ...
Hello people hope you enjoy this nice and sunny weather :)As you noticed from time to time I'm having new stock on , this time let me show you couple new colours by China Glaze"Tempest""Long kiss""Seduce me""Three hugger""Blue sparrow""Sexy in the ci...
As you can see last couple weeks my nails are short , busy with relocation house and shop i have decided to take off my nail extension. I bought and they just arrived wedding collection nail varnishes , my favourite now is "back to nature" and "baby'...
Hello there :) new uv lamp just arrived , look @ pattern lovely leopard print with cute red button , its so lovely isnt it?What kind of lamps do you have guys?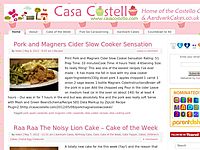 Saturday means Caption Day – I haven't been able to join in for ages but couldn't miss the opportunity with this picture. A full post with the tale behind these horrific fingers will follow later in the week. As per usual, there is...