Blog Posts - Nyse:expr
Express Inc. (EXPR) A shareholder rights plan, also known as a "poison pill", is one of the most effective defense tactics available to publicly traded corporations. A poison pill is designed to make the transaction being pursued by a hos...
EXPR, Express, Inc. ** EXPR has raised its outlook for the fourth quarter and full year 2012, ending February 2, 2013, based on better than anticipated performance during the holiday season and expectations for the balance of the period. EXPR current...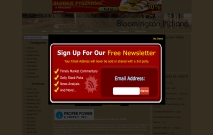 Calix Inc. (NYSE:CALX) announced that Broadband Stimulus award winners Nunn Telephone Company (Nunn) and Wiggins Telephone Association (WTA) have each selected Ethernet Extensible Architecture (EXA) Powered Calix Unified Access platforms and the 700...
Orofino Gold Corp. (ORFG) Orofino Gold Corp. (ORFG) is a Colombia based gold producer founded as a private company in 2009 by former executives with over 50 cumulative years in mining exploration, finance, and development expertise. Orofino Gold Corp...