Blog Posts - Nyse:my
Express Inc. (EXPR) A shareholder rights plan, also known as a "poison pill", is one of the most effective defense tactics available to publicly traded corporations. A poison pill is designed to make the transaction being pursued by a hos...
China Ming Yang Wind Power Group Ltd. (MY) MY reported that its subsidiary, Jiangsu Mingyang Wind Power Technology Limited has been approved by Rudong Energy Bureau in Jiangsu Province, China, to exclusively develop and operate a 300MW off-shore wind...
GlycoMimetics, Inc. (GLYC) GLYC reported that Pfizer has made a $15 million payment to the companys under the terms of the parties' collaboration for the development of rivipansel (GMI-1070). Under the collaboration, Pfizer plans to initiate a Phas...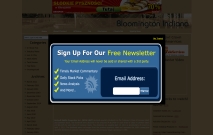 Cedar Shopping Centers, Inc. (NYSE:CDR) announced that Leo S. Ullman, Chairman, President and Chief Executive Officer, will retire from Cedar effective June 15, 2011, the date of the Company's annual meeting of shareholders and directors. The C...