Blog Posts - Photography Competitions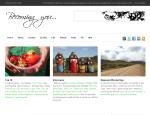 One of the things most women wish for is a photo of themselves which they actually like… with the high standards we place on ourselves, they don't come around too often! As women we always seem to find fault with our appearance when we se...
Some of the today's best photographic portraits come from lesser known artists and photographers. In order to highlight these worthy portraitists, the National Portrait Gallery has partnered with Taylor Wessing to recognize the best images in this fi...
The International Loupe Awards are open for 2011. Hang on a minute wasn't it called the Aperture Awards? Yes, the ... Continue reading...
Meet the Judges Have a look at a couple of great video interviews that have been conducted as part of ... Continue reading...
Call for Entries – wedding & portrait photographers worldwide The Canon Creative Asia Photography Awards 2011 A revolutionary new photographic ... Continue reading...