Blog Posts - Printable Planner
Bloggers, here's something to help you plan your year. As you get ideas for posts, make sure you jot them down in this FREE blog planner and calendar for 2017. The planner has plenty of space for your ideas plus icons for Twitter, Facebook, Pintere...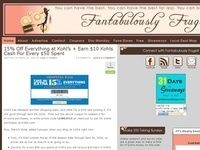 Staying organized can be tough, and oftentimes planners can be pricey! Right now though, if your printer ink is full and you have a little bit of time on your hands, you can construct your own planner for just $15! GroopDealz is selling The Super Wom...