Blog Posts - Ryżowe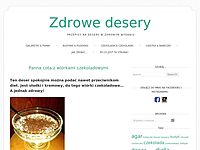 Jak zobaczyłam te chrupacze w sklepie (pełnometrażowe- w całej okazałości) po 34g zwariowałam, serio! Chrupkie, pszenne, smakowe, niesamowicie niskokaloryczne (na tak okazałą przyjemność) i to jeszcze w genialnych smakach! Paczuszka to zal...
Jak niektórzy (już) wiedzą jestem uzależniona od wszelkich chrupaczy w tym wafli, pisałam o tym przy recenzji KUKU wafelków kukurydzianych od Kupca. Kukurydziane to szczególnie mój ulubiony rodzaj, a na wszelkie nowości reaguje na domia...
Jadłam Belriso wieki temu, ale będąc ostatnio w Kaufie pomyślałam, że warto byłoby odświeżyć sobie ich smaki i porównać (takie porażające podobieństwo), szczególnie, że jest na nie teraz promocja, która kusi. I nie tylko ona! Nasza...
Wszystko jakoś tak poprzestawiałam na odwrót: zdjęcia, recenzję, nawet własne życie. Ale po kolei: Riso naturalne słyszałam o nim; ba co więcej rozmawiałam na jego temat. Ale kurde znowu dałam się bezczelnie naciągnąć :D No...