Blog Posts - Sacramento Walk To End Alzheimer's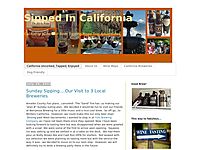 What a great day! Actually , a great few weeks! It all started on June 21st, 2015. Team Brew Crew created a beer to benefit the Alzheimer's Association. With the help from the great brewing staff at Yolo Brewing Company we bre...
A slideshow by Smilebox...
The Only Thing Better Than A Good Cause?A Good Cause With A Side Of Fish Tacos.Join us for a fundraiser to support The Sacramento Walk to End Alzheimer'sThursday June 5th2P-CloseRubio's Folsom2776 East Bidwell StreetFolsom, CA. 95630Thursday, July 31...
Free photo slideshow generated with Smilebox...
Whew! What a whirlwind the Holiday Season was! My house is clean, everything is put away, I'm organized, my mind is clear, and I'm ready for 2013!Big plans for this year in the Alzheimer's world. The Ale for Alzheimer's kick off is...
Thank You!Thank you for your donations to the Alzheimer's Association Sacramento Walk to End Alzheimer's! Your generous contribution will help further our cause to find methods of prevention, treatment and an ultimately, a cure for Alzheimer's...