Blog Posts - Smoking Tax
A brief, but important post today. Here we go again…or, to be completely correct, here I go again. For years, I have wanted to quit smoking. It's a disgusting habit and we all know what it does to your body. I have had quit attempt after quit att...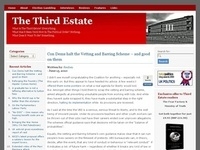 As many of you know, this website takes its name from the social structure of pre-revolutionary France. Back then, the Clergy and Nobility were respectively known as the First and Second Estates, while the commoners were known as the Third Estate. On...