Blog Posts - Web Font
Calibri – Type Family. Calibri was designed in 2006 by font designer Lucas de Groot (Font Publisher: Ascender Corp./Design Owner: Microsoft). This modern sans serif typeface has subtle roundings on stems and corners. Calibri includes real itali...
Poly – free web font This is such a well designed serif font. Free for use as web font. Designed by José Nicolás Silva Schwarzenberg. More information here. More typography inspiration. posted by W.A.T.C.Facebook // Twitter // Google+ // P...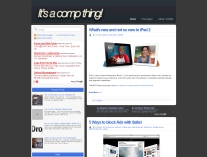 An example page from the Typotheque website demonstrating the use of webfonts. In this short article a relatively recent CSS feature that has literally been a dream-come-true for web developers for quite some time now will be discussed. The so-calle...