Blog Posts - West Java Tourism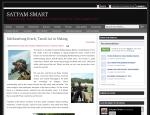 South Bandung plateau which is the region Patuha, has a very enchanting natural beauty. Many tourist attractions in this area, and the most beautiful is the Crater Lake White Ciwidey, Bandung. Natural scenery around Crater Lake White is quite beauti...
Made in the Netherlands in 1861 at the time of Sri Sultan HB VI. Kareta is used for the coronation of Sultan,  pulled by 8 horses with has the same color especial male. Cleaning ceremony conducted every year once every month of Suro. Referred to...