Standup_Twop Profile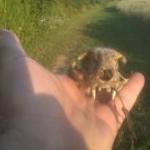 Standup Twop
Join Date:
2011-08-05
About
I'm a guy… I'm a guy you want around when the ship runs aground, the garage catches fire, a fight breaks out, if your dog is full of porcupine quills. If there's a raccoon crazed on rat bait in your garage I'm the guy you want next door. If the Vandals and Visegoths are crossing the frozen Rhine- you want me on watch.

A macho guy by many measures- An anachronism by others. I can dig a ditch, use an axe, sharpen a chainsaw, weld, wood work, butcher, garden, pull wire, run plumbing, plow snow, sweat and braze. I've hunted, butchered and eaten game, livestock and fish, exterminated pests and put down sick and injured animals. I believe that these and others are a necessity of cultural literacy.

A real failure by others.

It comes to my attention especially in the past year that I have put too many of my beliefs aside for some misguided PC reasons. However, it's dawning on me more and more that I can express my primacy, without the rage of my youth.

And that 1/2 my problems have to do with squatting submissively.

Hence- standup2p.
Blogs Owned