atulplayer Profile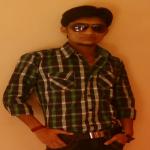 Atul Purohit
Join Date:
2011-03-24
About
Er. Atul Purohit
I believe in God-The Almighty.
I am friendly.
I am crazy about Love.
I hate missing my dear ones.
I am blessed with a good family and friends.
My dreams are unlimited...
I wanna reach heights...

"Never do anything unethical, follow your heart and make sure that you set a destination in life and work for it. This is the only way to success "
This is an advice which i worth a lot!
█║▌│█│║▌║││█║▌│║▌║│║│║█║
911-13031982-5011-341431

Hi Myself Atul purohit,
I am 21 years old, I live in Ahmadabad, Gujarat, India.
But at present,I am persuing my B.Tech in Electronics & Communication from Aravali Institute of Technical Studies, Udaipur.

Email:- aryanpurohitrocks@gmail.com
contact@atulpurohit.co.cc
masterplay_atul@yahoo.com


Mobile No:- +91-9672379656 (Raj.)
+91-8866248175 (Guj.)


My Blogs:-
World Auto Action
Best Hacking News
Coreinfo Solution Ltd.
Blogs Owned