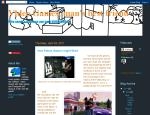 Site Statistics
Unique Visitors this Week:
0
Unique Visitors this Month:
0
Total Unique Visitors:
59
Latest Blog Posts for Video Games, man's best friend
How Future Games might Work

on Apr 29, 2011

What all the 10 yr old CoD gamers will look like in the future We have all the genres, we have all the ideas but we just don't have the hardware. What would gaming be like if we stuck to our original roots similarly to those...
The Enigma of Gaming

on Apr 28, 2011

Through the centuries, since the Neanderthals had first invented the Magnavox Odyssey, playing no more than Pong, to this day, where as we play games that are on the brink of reality; There have...
They've lost their Edge

on Apr 28, 2011

At the beginning, there was PONG; the gravestone indicator that the technology back then was crap. It didn't need originality or next gen technology like games do today because it was the only thing possible a...