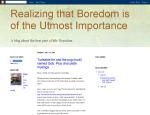 Site Statistics
Unique Visitors this Week:
0
Unique Visitors this Month:
0
Total Unique Visitors:
81
Latest Blog Posts for Realizing that Boredom is of the Utmost Importance
Turntable.fm and the pug (mutt) named Gob. Plus chocolate musings.

on Jul 31, 2011

Been a while, not that anyone reads this.Sitting around contemplating what makes Ovaltine's milk chocolate powder about 10x better than nesquik. Any ideas why?Also, came across a new "app" for the interweb: turntable.fm. Check out my room at http://t...
Shooting 11 Under, Maturity in Texas, and Laziness.So, Rory McIlroy is golf's version of Lebron James. 5 of the 6 majors he has played in in the last year he led or shared the lead, but failed to win any event. Of course, his freefall at Augusta in April--a feat that was seemingly as difficult to acc...
Contemplating the Essence of Existence Only Makes One Hungry.While sitting at my 24-inch widescreen monitor--the one that has been neglected for over 3 years with dried on ramen-juice stains--reading random and boring news articles on CNN.com and listening to music that I still play as if it were still 2003, I...