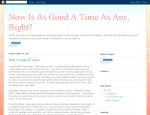 Site Statistics
Unique Visitors this Week:
0
Unique Visitors this Month:
0
Total Unique Visitors:
51
Latest Blog Posts for Now Is As Good A Time As Any, Right?
My Early Years

on Oct 18, 2011

I moved seven times that I know of from the time I was born until we landed in Massachusetts in 1978, a month before I turned 15 years old. I'm sure there are others - I know that we lived in one townhouse, and then for some rea...
Where to begin?

on Oct 14, 2011

Do I start at the beginning? The real beginning. Like, where and when I was born? Does anyone even care? Probably not. But for those of you that are interested - I was born in August of 1963, in N. Kansas City, Missouri.
First Couple of Years

on Oct 14, 2011

I worked while B was a baby. I didn't have a choice. We were young, neither one of us had a college degree, and it's just what we had to do. I went back to work when B was 6 weeks old. I hated having to do it, but I felt prett...