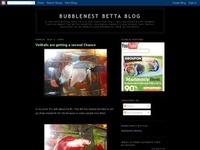 Follow as I strive to create the perfect show veiltail. Also information on betta care and breeding. Reviews and thoughts about the whole siamese fighting fish industry
Like it
Owner:
BurningAmber
Listed in: Pets
Language: English
Tags: Betta, Fish, Siamese Fighting Fish, breeding, veiltails
Site Statistics
Unique Visitors this Week:
0
Unique Visitors this Month:
1
Total Unique Visitors:
92
Latest Blog Posts for Bubblenest Bettas
Veiltails are getting a second Chance

on May 3, 2009

In my book VTs will always be #1. The IBC has indeed decided to set up show standards for Vts because so many people love them.From the IBC newsletter Quote: We have a new chapter devoted to veil tails. Charlie Davis and the crew are hoping to gen...
A new and Betta beginning

on Apr 30, 2009

After a heartbreaking end to my dreams of betta breeding glory a few months ago, I never thought I would be able to let these little finned critters back into my life, or my heart again. But then I began talking to fellow betta lovers from my past an...