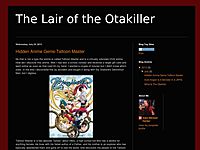 Site Statistics
Unique Visitors this Week:
0
Unique Visitors this Month:
0
Total Unique Visitors:
174
Latest Blog Posts for Lair of the Otakiller
What Is The Otakiller

on Jul 24, 2013

Who am I? I am the Otakiller. But then again what is Otakiller mean? Ota; which is the first part of the word Otaku and Killer which is a word meaning one who ends life. As the Otakiller I will be bringing my own spin to the anime genre. I am an Otak...
Hulk Hogan Is A Monster In A JRPG

on Jul 24, 2013

Ever heard of Shin Megami Tensei Persona 3. It is an RPG game from Atlus and it juggles both high school life and dungeon crawling to create a new sense of gameplay. Another important aspect of this game is shooting yourself in the head with a psychi...
Hidden Anime Gems-Tattoon Master

on Jul 24, 2013

No that is not a typo the anime is called Tattoon Master and is a virtually unknown OVA anime. How did I discover this anime. Well I had won a school contest and received a target gift card and went online as soon as that card hit my hand. I wanted a...