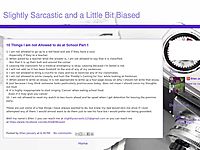 Site Statistics
Unique Visitors this Week:
0
Unique Visitors this Month:
0
Latest Blog Posts for Slightly Sarcastic and A Little Bit Biased
10 Things I am not Allowed to do at School Part 1

on Aug 22, 2014

1. I am not allowed to go up to a red head and ask if they have a soul. -Especially if they're a teacher.2. When asked by a teacher what the answer is, I am not allowed to say that it is classified. -Nor that it is up th...
Who Knows

on Aug 22, 2014

For most people there are two ways to do things. The easy way and the hard way. Me? Its the clumsy way and the do I really have to do this way? The clumsy way is where I get it done quickly and as non trippy as I can though there's usually a couple t...