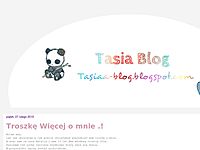 Site Statistics
Unique Visitors this Week:
0
Unique Visitors this Month:
0
Latest Blog Posts for Tasia-Blog
Małe Zamieszanie.+ Kiedy zaczyna się ,,Przyjaźń,,?

on Mar 15, 2015

Witam was gorąco po długiej przerwie.Od razu chcę was przeprosić za to że tak długo nie pisałam,niestety przez 2 tygodnie nie miałam internetu.Dopiero wczoraj go odzyskałam.A wracając do tematu Posta.Według mnie,prawdziwa przyjaźń zaczyn...
Troszkę Więcej o mnie .!

on Feb 27, 2015

Witam was,tak jak obiecałam w tym poście chciałabym powiedzieć wam trochę o mnie.A więc mam na imię Natalia i mam 13 lat.Mam młodszą siostrę Jolę.Posiadam też yorka terriera średniego który zwie się Dusia.W przyszłości marzę zostać...
Pierwsza notka.

on Feb 26, 2015

Hejka !Jest to pierwszy post na moim pierwszym porządnym blogu.Porządnym,ponieważ już kiedyś robiłam różne blogi ale nie miałam na nie żadnych pomysłów,lub całkowicie je zaniedbałam...Tutaj chcę opisywać moje życie,zainteresowania,pa...