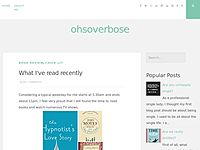 Site Statistics
Unique Visitors this Week:
0
Unique Visitors this Month:
0
Latest Blog Posts for ohsoverbose
What I've read recentlyConsidering a typical weekday for me starts at 5.30am and ends about 11pm, I feel very proud that I still found the time to read books and watch numerous TV shows. I'll start with my most Favourite one of the three; The hypnotist's love story by...
Are we really entitled?First of all, what exactly is a millennial? Of all the definitions I found, the one I think captures the generation of millennials is the Goldman Sachs definition. They suggested that millennials are individuals currently between the ages of 15 and 3...
Are you unhappily single?As a professional single lady, I thought my first blog post should be about being single. I used to be all about the single life. I actually loved being single. I get to be as selfish as I want and I have more time to do other things, like watch TV...