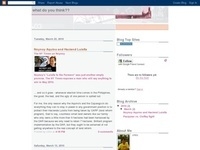 Site Statistics
Unique Visitors this Week:
0
Unique Visitors this Month:
0
Total Unique Visitors:
19
Latest Blog Posts for What Do You Think??
Noynoy Aquino and Haciend Luisita

on Mar 23, 2010

The NY Times on NoynoyNoynoy's "Luisita to the Farmers" was just another empty promise. The NY Times exposes a man who will say anything to win in May 2010.....and so it goes - whenever election time comes in the Philippines, the good, the bad, and t...
Pacquiao vs. Clottey fightClottey is 100% BORING!!!!! Sorry to say, but Clottey was at his most cowardly stance ever. He didn't do anything but HIDE his face. Of course from PACMAN, but he should have continued hiding his face even after the fight (from embarrasment!!) Clotte...