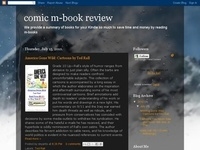 Site Statistics
Unique Visitors this Week:
0
Unique Visitors this Month:
0
Total Unique Visitors:
10
Latest Blog Posts for comic m-book review
Krazy Kat 1921 [Comic Anthology]An anthology of George Herriman's famous cat and mouse duo/rivalry Krazy Kat and Ignatz Mouse. This volume is composed of daily comic strips which ran in America during 1921. Comics produced by CreateSpace (November 21, 2009) has 120 pages in E...
America Gone Wild: Cartoons by Ted RallGrade 10 Up—Rall's style of humor ranges from abrasive to just plain silly. Often the barbs are designed to make readers confront uncomfortable subjects. This collection of cartoons is accompanied by a long essay in which the author elaborates on t...
Cartoons You Never Saw, and Never Will See, in The New YorkerEach week about fifty New Yorker cartoonists submit ten ideas, yielding five hundred cartoons for no more than twenty spots in the magazine. Arguably the most brilliant single-panel-gag cartoonists in the world create a bunch of cartoons every week t...