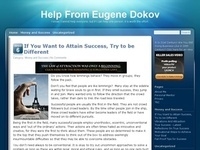 Site Statistics
Unique Visitors this Week:
0
Unique Visitors this Month:
0
Total Unique Visitors:
4,038
Latest Blog Posts for Help From Eugene Dokov
Using Humor to CopePhoto by The PackAs adults, we have trained ourselves to take life seriously. After all, we do have responsibilities. We have bills to pay and mouths to feed. Adults must go to work everyday and deal with what life throws at them. Sometimes our lives...
If You Want to Attain Success, Try to be DifferentPhoto by danorbit.Do you know how lemmings behave? They move in groups; they follow the pack. Don't you feel that people are like lemmings?  Many stay at the sideline waiting for brave souls to go in first. If they smell success, they jump in and...