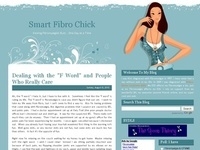 A blog about fibromyalgia
Like it
Owner: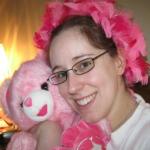 OzarksUSA
Listed in: Health
Language: English
Tags: FMS, Ehlers-Danlos, women's health, fibro, fibromyalgia
Site Statistics
Unique Visitors this Week:
0
Unique Visitors this Month:
0
Latest Blog Posts for Smart Fibro Chick: Kicking Fibromyaglia's Butt...One Day At a Time
Dealing with the "F Word" and People Who Really CareAh, the "f word." I hate it, but I have to live with it. Sometimes I feel like the "f word" is ruling my life. The "f word" is fibromyalgia in case you didn't figure that out yet. I want to take my life away from fibro, but I can't seem t...
'Fibro and CFS don't occur together' Whaaat???I saw a new rheumy the other day. I am glad that she renewed the scripts I needed and glad that she takes my fibro seriously. However, I asked her about the possibility of Chronic Fatigue Syndrome and she told me she doesn't believe that...
Men are also fibromyalgia patientsMen are also fibromyalgia patientsAug. 21, 2009The chronic pain syndrome fibromyalgia, which most often occurs in women, can also affect men -- not only as patients, but as caregivers, U.S. researchers say."Although 10 percent to 20 percent of fibrom...