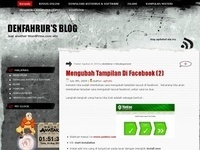 semua yang ada di blog ini berisi bermacam-macam pengeahuan.khususnya di bidang komputer,maka saya dyan fahrur rozie,ingin anda mengunjungi blog ini dan mengomentarinya.terima kasih
Like it
Owner:
fahrur
Listed in: Computers
Language: Indonesian
Site Statistics
Unique Visitors this Week:
0
Unique Visitors this Month:
0
Latest Blog Posts for denfahrur's blog
A duplicate name exist on the network Satu ketika saat menyalakan komputer tiba – tiba muncul pesan "A duplicate name exist on the network", hohohoho….ternyata ada masalah dengan network (jaringan) lokal. dari pesan tersebut menandakan bahwa...
Hello world!Welcome to WordPress.com. This is your first post. Edit or delete it and start blogging!
ALL ABOUT MAFIA WARSJumat, 30 April 2010 Depot Senjata – Chop Shop Perang Mafia Cheats Saya suka bermain Mafia Wars di facebook, tapi setelah update Zinga itu, ada terlalu banyak fitur baru dan fasilitas yang dibutuhkan waktu yang lama untuk bermain semua. Misalny...