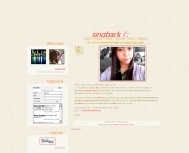 Site Statistics
Unique Visitors this Week:
0
Unique Visitors this Month:
0
Total Unique Visitors:
27
Latest Blog Posts for SingBack.
02. There's just no one, no one like YOU.Finally. I have time to post again. GAHH! It's exams again this week. >.< [January 14-16, 2011] BV. Saturday and Sunday. There's no classes on the 17th & 18th, though. In exchange for those weekend days. \m/ What do I do on those days anyw...
01. SingBack opens.Once again, I open SingBack under the support of Unloved-Heart and LittleDancer on December 29, 2010. I'll be around to do more around the site so please stick close! Drop by and leave a message. :] ♥Clauie;...