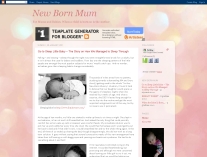 Site Statistics
Unique Visitors this Week:
0
Unique Visitors this Month:
0
Total Unique Visitors:
1,253
Latest Blog Posts for Newborn Mum
Go to Sleep Little Baby – The Story on How We Managed to Sleep Through

on Jan 30, 2011

Falling – and staying – asleep through the night may seem straightforward a task for us adults, but it isn't always the case for babies and toddlers. From day one the sleeping patterns of the little people are amongst the most popular subj...
BREAST IS BEST

on Dec 7, 2010

Despite the overwhelming popularity of bottle feeding, the majority of us realise that breastfeeding has significant benefits for both mother and child. Magazine articles, advertisements and hospitals have been promoting breastfeeding as a baby frien...
When the Baby Is Born...The day my daughter was born was the most special day of all – painful, enlightening, inspirational and of course... rewarding! Nearly twenty hours of labour – the majority of which I spent wishing my life away, getting high on laughing gas, and...