Holy Spirit Blogs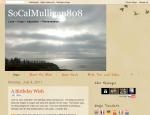 Publishing all the good that Jesus is doing for us...one day at a time and one page at a time. Join.. me daily at 8:08 for morning musings and a chance to cross paths. Thank you for visiting...
Owner: Socalmulligan808
Listed in: Religion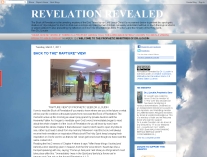 The Book of Revelation is the unveiling mystery of the End Times by our Lord Jesus Christ.It's.. my earnest desire to present this apologetic studies on "Apocalypse"
Owner: loudin
Listed in: Religion
Other Tags: Revelation, Theology, Eschatology, Apocalypse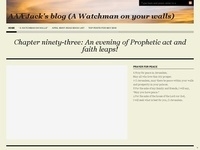 Lately, Jack discovers why many Christians are weak, sick, defeated and fearful. He reads that the.. Dung Gate shows how our bodies and minds defilement should be rooted out and burn, cutting off the.. spiritual link between the refuse and the Serpent.
Owner: davidgate36
Listed in: Religion
Other Tags: Bible mystery, God's plan, Jesus-focus, living supernaturally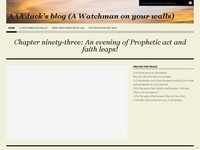 Last Sunday Jack encountered God (the Holy Spirit) as he did 26 years ago, though more powerful and.. touching. He was filled with great peace, joy and gratitude. Tears streamed down like a river and.. washed him. The love of God overwhelmed him!
Owner: davidgate36
Listed in: Academics
Other Tags: real church, God's love, living water, prayers answered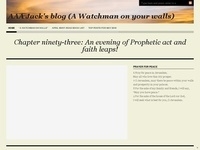 Jack discovered at the Fountain Gate that he can only be cleansed by the blood of Christ, the Word,.. and the Holy Spirit. He witnessed the Holy Spirit filling a 73 year old grandma who hungered for.. God's words, believed and trusted God completely.
Owner: davidgate36
Listed in: Religion
Other Tags: Jerusalem Gates, Jesus, Spirit-filled, deliverance
Jack has been practicing to hear God. More significant example was the purchase of a stock when the.. market was down and panic was everywhere. It was a step of faith to obey the Holy Spirit. He made a.. 27% profit in capital gain plus dividend.
Owner: davidgate36
Listed in: Literature
Other Tags: hear God, Profit, spiritual training, Biblical living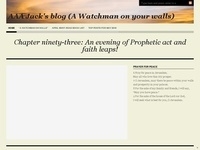 This is a life and death issue. Who can enter heaven? Not everyone. Jesus mentioned that only.. through the narrow gate and difficult path can one enter. For those who do not believe in the.. supernatural, spiritual reality of God, alas, no entry.
Owner: davidgate36
Listed in: Religion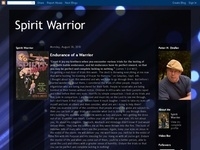 A Deeper walk with the Jesus - expressing Christian themes over various subjects leading to a closer.. relationship with Jesus Christ.
Owner: SpiritWarrior1
Listed in: Academics

This blog about Christians information, Christian Living, Holiness, Holy Spirit, Jesus Christ and.. much more on. We talk about Bible ministry.
Owner: clay777jeson
Listed in: Religion
Other Tags: Christian Living, Holiness, Biblical, Christian Music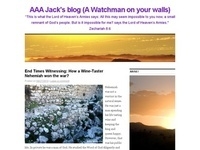 As this story unfolds I realize it is more than children adventure. You need a code to read it. Do.. read the whole story as I am led by the Spirit to write the final chapters soon with end times in.. mind. This is not a children story after all.
Owner: davidgate36
Listed in: Literature
Other Tags: end times story, treasure hunt, courage, overcomers